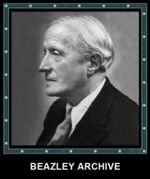 The Oxford University project began in 1979 to promote computerization of Sir John Beazley (1885-1970) archives, which were purchased for the Faculty of Classics in 1964 and then brought to the Ashmolean Museum, immediately after the scholar's death. The Classical Art Research Centre (CARC) was created out of the Beazley Archive in 2007, when the Archive was moved into specially designed premises in the Ioannou Centre for Classical and Byzantine Studies, next to the Ashmolean Museum. 
The use of computers, which initially affected Athenian figure-decorated pottery c. 625-325 BC,  was favoured by a recording system the archaeologist himself had already formalised. The project was developed through a number of stages. In the 1980s the Athenian pottery database was designed and implemented; it now contains more than 100,000 records, 150,000 images and has more than 20,000 registered users. During the 1990s other databases on plaster casts of classical sculpture and engraved gems and cameos were created.
Today several databases on different types of classical antiquities, an illustrated dictionary and an extensive bibliography are available on-line and the website receives about 250,000 hits a day. In the 2000s the Beazley Archive participated in the CLAROS project, a virtual art collection that links together the online galleries of some museums from four different European countries.