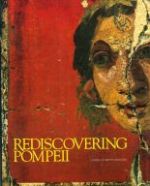 In 1990, IBM Italia and Fiat Engineering organised the exhibition "Rediscovering Pompeii" at the IBM Gallery of Science and Art in New York, under the auspices of the Italian Ministry of Cultural and Environmental Affairs. The exhibition can be considered as the first international event showing how computer technology could revolutionise the analysis of archaeological evidence and how interactive activities could involve visitors allowing them to access the wealth of archaeological information resources, thanks to interactive computer terminals.
The exhibition found a remarkable echo in the international scenario. Malcom W. Brown, in his New York Times article "Filling in Pompeii Gaps by Computer", wrote: «the show is well worth seeing, crowds or no crowds; it brings a visitor face to face with a people who seem much closer to our own than the separation of two millenniums might imply». Between 1990 and 1992, the exhibition was housed in the Museum of Fine Arts, Houston, in the Rooseum, Malmö, and in the Accademia Italiana delle Arti e delle Arti Applicate, London, and the year after also in Rome, at the Musei Capitolini.
The exhibition aimed at illustrating the goals and achievements of the Neapolis Consortium Project, which begun in 1987 with the objective of creating a general system for the exploitation of the environmental and artistic resources in the area aroundMount Vesuvius. Besides illustrating a variety of Pompeian artefacts, the exhibition provided some valuable insights into the use of information technology. A single, centralised data bank was at the core of the Neapolis Project, according to a relational model of knowledge representation that is still considered as a methodological landmark. Among the main outcomes, the numerical archaeological map of Pompeii, the systematic cataloguing of frescoes and mosaics, the digitisation of excavation diaries (1862-1980), the resurrection of texts from charred papyrus documents, the creation of 3D models for reconstructing the original architecture of ancient monuments, such as the Stabian Baths, the simulation of restoration processes before real interventions.
The sumptuous Catalogue of the exhibition was published by L'Erma di Bretschneider in Rome, which boasts a long tradition as a Publisher of monographs and scholarly Journals in Archaeology. In 1988, L'Erma had already published the book "Pompei. L'informatica al servizio di una città antica", illustrating the first results of the Neapolis Project. Thanks to the liberality of the Publisher, some chapters of the Catalogue are here reproduced for the first time.