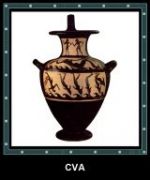 https://www.beazley.ox.ac.uk/cva/
The Corpus Vasorum Antiquorum (CVA) is a major international project. Started in the early 1900s under the aegis of the Union Académique Internationale, it is designed to promote the publication of ancient pottery produced between 3000 BC and 1000 AD. Several Museums from 24 countries participate in the project. Publications are organized into fascicules and ordered by country and museum.
Digitisation of CVA was undertaken by Oxford University's Beazley Archive upon request of the International Committee of CVA and through the funding of the Getty Grant Program. Between 2002 and 2004 all out of print fascicules were digitised. Currently works are underway for the new published fascicules.
The Corpus is available on-line as part of a database that can be browsed or searched. Individual out of print fascicules can be consulted following the alphabetical order of countries and museums. An advanced query is also available based on a list of controlled vocabulary (fabric, shape and technique) together with a multilingual thesaurus of names of vase-shapes, Athenian vase-painters, and iconographical terms.