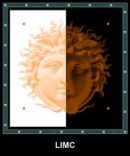 The LIMC is an illustrated lexicon about ancient myths, which was originally started in 1972 by the Foundation for the Lexicon Iconographicum Mythologiae Classicae, headquartered in Basel since 1983. The Foundation's first Secretary-Generalwas Lilly Kahil, the promoter of the project.
Published speedily and serially from 1981 to 1999, with a Supplement in 2009, the LIMC is aimed at cataloguing  and studying the iconographic representations of Greek, Etruscan and Roman myths and legends and their development in neighbouring territories.
The consistent documentary and photographic collection gathered over the years is kept in various archive centers – in Basel, Athens, Paris, Heidelberg, and Würzburg – and its accessibility on-line is the main objective of the Foundation website, in which it is possible to consult and search three main databases in six different languages:
- Database of the LIMC Foundation, which permits detailed and complex enquiries, thanks to a user-friendly search template.
- Iconiclimc, which gives direct access to the pictures.
- LIMC-France, which gives access to the three databases of the LIMC French team: LINCicon (database of Greek, Roman and Etruscan documents bearing a mythological or religious representation); LIMCbiblio (database of recent bibliographical data); LIMCabrev (database of the list of articles published in the LIMC and full quotations of bibliographical abbreviations).